Picture this: the wind in your hair, nature around you, and the sound of hoofbeats below you as you canter through jaw-dropping California countryside. It's hard not to feel deliciously alive and free when you pursue your equestrian dreams in California. Whether seeking prestigious equestrian sports or exploring the rural trails on horseback, it's thrilling. If you're ever in Paso Robles, you want to make an effort to add equestrian adventures to your calendar.

Paso Robles, California, offers stunning landscapes and some world-class dining. It's the perfect area to spend some time on horseback. You can explore the glorious vineyards and create unforgettable moments in the breathtaking California countryside. If you're a horse lover and enjoy spending time in the saddle, then you want to check out our list of things that all equestrians love about Paso Robles.
Where is Paso Robles?

Locals often referred to as the "North County," Paso Robles, California, is a mid-sized town located on the Central Coast of California. It's quaint and adorable, nestled in the northern part of San Luis Obispo County about midway between Los Angeles and San Francisco and 15 miles east of the Pacific Ocean.

This city is the most prominent hill "over the grade," which is the Cuesta Grade — a substantial ridge separating San Luis Obispo from Paso Robles. The city's full name is "El Paso de Robles," which translates to "The Pass of the Oaks." The town is easily accessible, though visitors must be willing to wind through vineyard-lined roads and stunning countryside views.

The area was once referred to as "Hot Springs," but it's now highly popular for its rolling wineries, olive oil production, and almond orchards. It hosts the California Mid-State Fair, which brings visitors and travelers worldwide. Paso Robles once had the title of "Almond Capital of the World," thanks to the delicious almonds grown in the area. It used to be the largest concentration of almond orchards on the globe.

Today, Paso Robles is a world-class region for delicious wine, hosting endless unique experiences for wine tasting lovers. It has a laid-back vibe with over 40,000 acres of vineyards and 200 tasting rooms, boasting over 40 wine grape varieties produced in the area. It's the perfect place for visiting, relaxing, and, of course, horseback riding.
Why do equestrians love Paso Robles?
Great weather

The entire state of California is beloved for its fantastic climate, dry summers, and mild winters. Paso Robles is no exception. While some days in the summer can get toasty, the average high in Paso Robles for July doesn't even reach 90°F. If you love riding horseback with a breeze and some sunshine, you'll fall in love with Paso Robles for all your equestrian adventures.
Lovely scenery

California is considered one of the prettiest states in the continental US, and the area around Paso Robles doesn't disappoint. The scenery in Paso Robles is breathtaking! As you ride through the hills and trails, you might feel like you've been transported to Italy with the numerous vineyards, stunning skies, hundreds of miles of remote back roads, and horseback riding trails.
Excellent exercise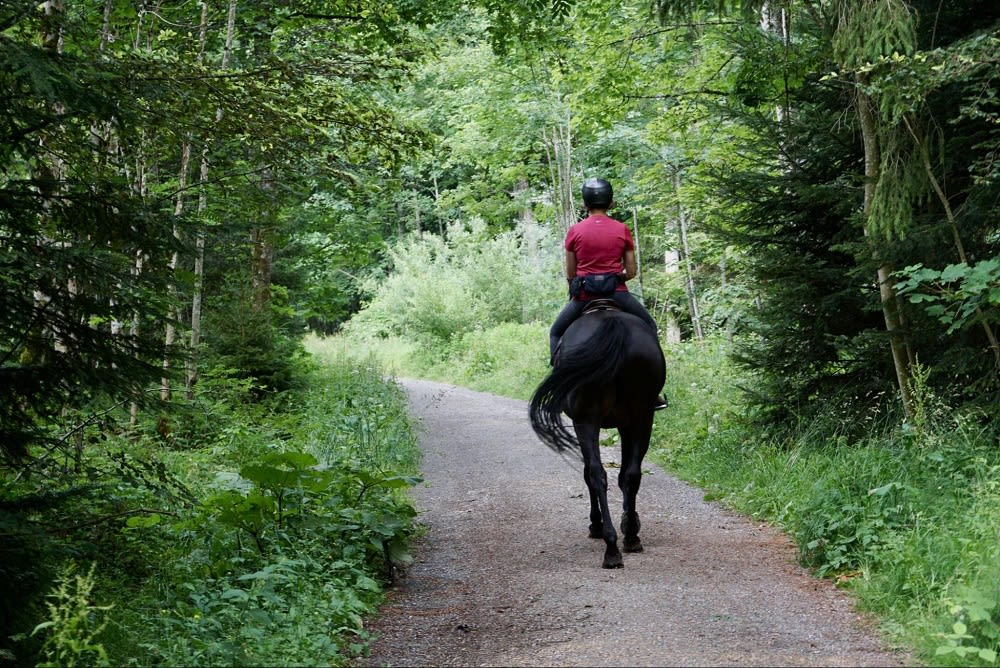 Horseback riding offers excellent exercise opportunities — when you take to the hills and trails around Paso Robles, you'll return feeling tired! You can easily find a horseback riding tour in the area that will lead you throughout the lovely countryside. Ask for a horseback riding tour that fits with your current expertise, so you don't end up on one that isn't fit for your skill level — either one that's too advanced or too novice.
Plenty to do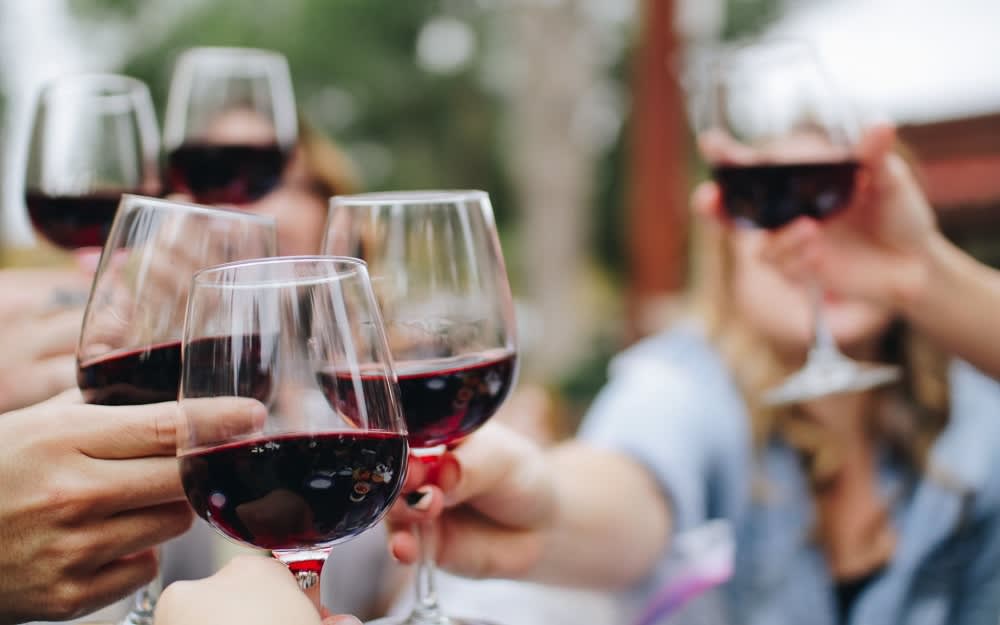 Paso Robles is a great place for equestrians, but it also offers a lot of unique attractions and entertainment opportunities, so you can fill up your time when you're not riding. Not only are there world-class wineries and vineyards in the area waiting for you to explore and go tasting, but the breathtaking coast is less than an hour's drive away.

You can take scenic riding tours throughout the Paso Robles area to enjoy the rolling hills and twining vineyards or make a day visit to the beaches for some relaxing sunbathing, swimming, and water sports.
5 Horseback Riding Spots Near Paso Robles

While you're more than welcome to find some places to bring your beloved horse on trail rides and adventures, Paso Robles does have many riding ranches where you can take tours, borrow horses, and enjoy the countryside without needing to transport your favorite horse.

Here are six of the most popular riding spots in Paso Robles, some of which offer trail rides or riding lessons as a service to their guests.
Paso Robles Pastures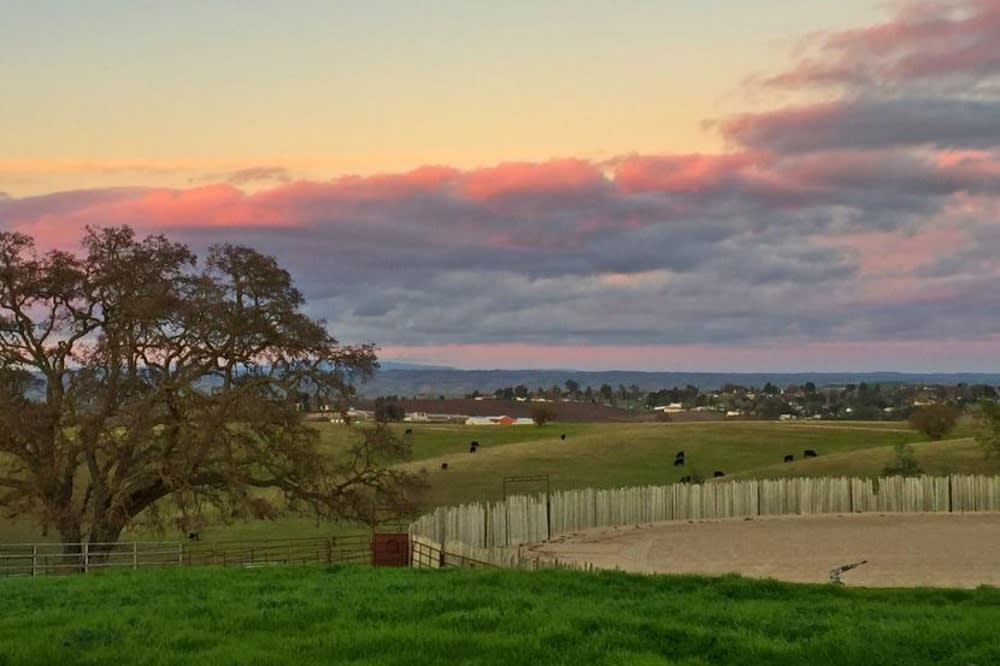 Photo courtesy of Paso Robles Pastures
Paso Robles Pastures
offers lovely horseback riding tours. This family-owned riding facility provides a beautiful getaway, as it's surrounded by 173 acres of land, where you'll find wineries, fine dining, and plenty of other exciting events at different times of the year.

You can get a guided trail for ages ten and up, but there are other riding experiences for children under the age of 10 with parental approval. If you're in the Central Coast area or exploring Paso Robles and looking for something to do, this riding ranch will provide a perfect afternoon. They also offer vacation rentals for anyone hoping to make a trip out of the experience.
Central Coast Trail Rides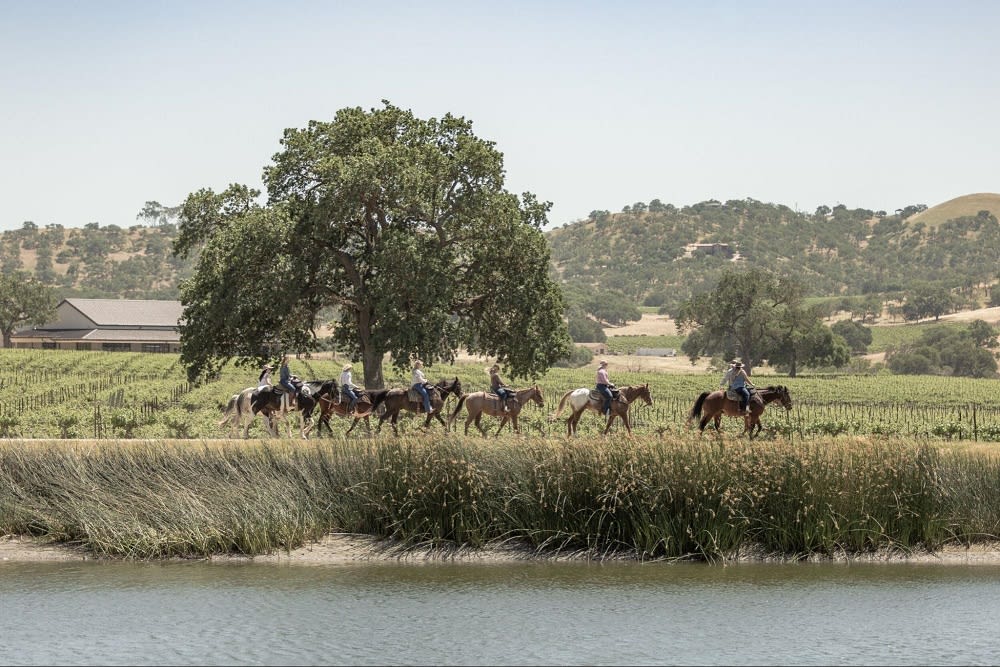 The
Central Coast Trail Rides
operate mainly out of Paso Robles. They provide guided horseback riding experiences on the stunning Central Coast, but they do it with a bit of a twist. Since they partner with local wineries, private ranches, local state lands, and vacation properties, they can provide customizable packages so you can plan the exact trip you want.

While they offer riding experiences all year long, all rides are by appointment only, so make sure you plan when booking your experience. They provide lodging recommendations and exclusive rides at all their partner rental properties.
Paso Robles Horse Park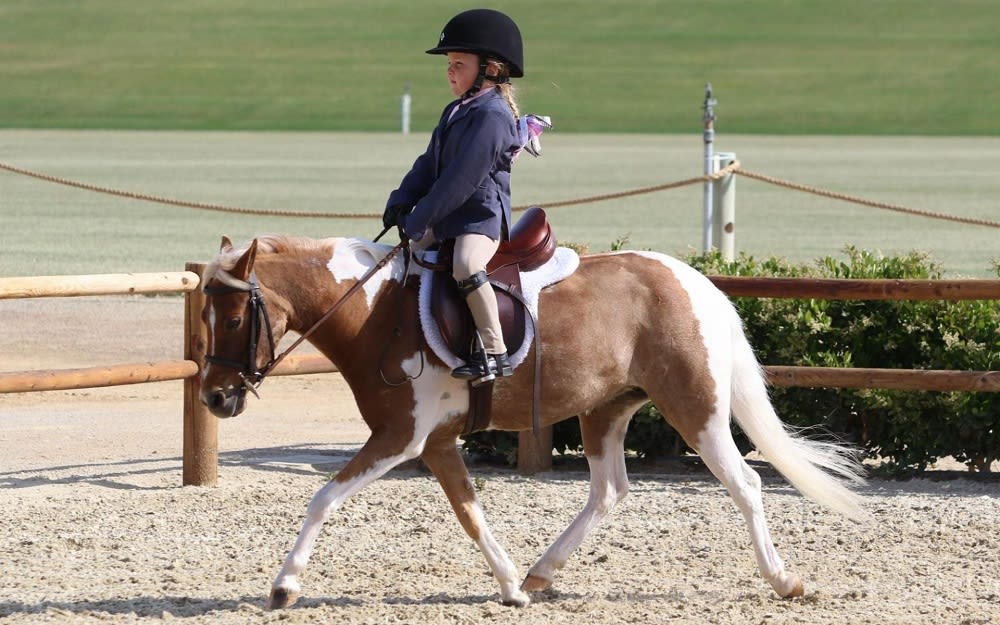 Photo courtesy of Paso Robles Horse Park
Paso Robles Horse Park
is the place to go if you're looking for the premier showground for hunter and jumper competitions in Paso Robles. These grounds occupy 70 acres, including a large turf field and eight sand arenas (the field has an advanced drainage system and hybrid Bermuda grass). Logistically, the park contains 224 onsite stalls with plenty of parking, including RV sites with hookups. You can't help but admire the natural beauty from the sloping hill that overlooks the competition areas and the countryside of Paso Robles beyond. Before you visit, be sure to
consult the checklist
provided by Paso Robles Horse Park.
Harris Stage Lines Event Facility
If you love everything equestrian-related, you'll enjoy the
Harris Stagelines Event Facility
. Located four miles north of Paso Robles, this unique event space hosts various parties, weddings, and business retreats. They also provide plenty of entertainment and activities that focus on immersing you in the authenticity of a historical horse ranch.

Check out their horse-drawn carriage rides, tour groups, and birthday party packages. This could be the perfect location for your next memorable party or event.
Work Family Guest Ranch
The
Work Family Guest Ranch
strives to preserve western tradition and lifestyle. It's a 12,000-acre working cattle ranch and sits just outside Paso Robles and the stunning wine country. When you visit, you're in for an incredible horseback adventure with trail rides, horseback riding lessons, horse clinics (including kids' clinics), and cattle drives. It's the perfect spot for the whole family.

Whether a first-time or a seasoned rider, the Work Ranch has a fun experience for you. All the horses available for rent are well-tempered and properly behaved, but you're also invited to bring your own to explore the trails.
Are You Considering Paso Robles Real Estate?
If you're looking for
homes for sale in Paso Robles
or San Luis Obispo County, you need a real estate agent who knows and loves the area to help you find your dream home.
Hertha Wolff Arend
is a passionate dressage and trail rider living on a ranch near Lake Nacimiento, an area with many lake and rugged backcountry trails. She understands what it takes to develop a horse property and is well connected in the equestrian community.
If you want to bring horses to California, Hertha will help you with recommendations for veterinary services, trainers, farriers, food suppliers, and everything you need.
Contact Hertha today
and you'll be many steps closer to owning equestrian property in Paso Robles.